Among the many changes that are happening now in the educational world, there is one that I would really like to see being implemented more widely - the use of digital badges.
Evaluation is part of formal education, and increasingly, of informal learning as well (for example, some MOOCs and conferences offer badges for participation). In his reflection on the
Role of the Educator,
Stephen Downes points out:
"The evaluator in a digital world is more than a marker of tests and assigner of grades; modern technology makes it possible to assess not merely declarative knowledge or compositional ability, but instinct and reactions, sociability, habits and attitudes."
These are elements which do not always fit neatly in a number or ticked box. There are so many learning moments in classrooms which can neither be summarised with a number nor should they go unacknowledged. And it is not only within classrooms - the learning process itself, whether in a F2F context or on an online course.
This is where awarding badges is so relevant. When training professionals, for example, digital badges are often more credible than a mere number. When working with students, badges can be motivating and rewarding.
In Hamilton's talk yesterday, two elements of quality assurance were referred to: badges should indicate levels of competency and should be aligned to a competency framework - elements which resonate with how assessment and evaluation of learners is commonly carried out. Another feature was in terms of what drives the awarding of badges - again, the need to give recognition to non-formal learning but also for differentiating and building a talent pipeline.
Digital badges offer challenges and opportunities which educators and trainers may wish to address and award to learners. Here are some possible suggestions for creating your own personalised badges for learners.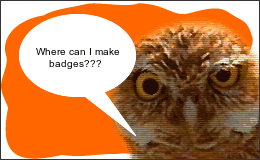 Makewaves
is free and has a
badge library
reflecting a wide range of activities and learning outcomes in different topics and subject areas. Badges also contain a series of tasks which students need to complete, which teachers can share with students and then track their progress.
Makewaves also offers
video tutorials for creating badges
, a newsletter for educators, and also a free
app
.
If you would like to look at another app for badges, there is also
Open Badge Academy
which is also free.
A last suggestion for creating badges is the
3D Online Badge Maker
, which creates badges, hearts and awareness ribbons.
Further Suggestions:
Appreciation - With a Badge
Running through Rubrics
Awarding Achievements
Clipping the Art
- a possible source for finding images for badges
The Role of the Educator
Effective Assessment in a Digital Age
Effective Assessment in a Digital Age
- A guide to technology-enhanced assessment and feedback
Digital Delights - Open Badges
(taken from:
What's inside an Open Badge
)